Tenda / TEG1105P-4-63W / 5 Port Gigabit ( 4 POE - 63W ) Desktop Switch
Lead security transmission power
supply to a new height
TEG1105P-4-63W 5-Port Gigabit Desktop Switch with 4-Port PoE
6KV Port Lightning Protection | Maximum PoE Output Power 58W
PoE power up to 30W for each PoE port

One-Key VLAN
If "VLAN mode" is enabled, Port 1-4 will be isolated respectively but can communicate with the port 5. Hardware DIP switch to isolate ports to prevent broadcast storm and defend against DHCP spoofing.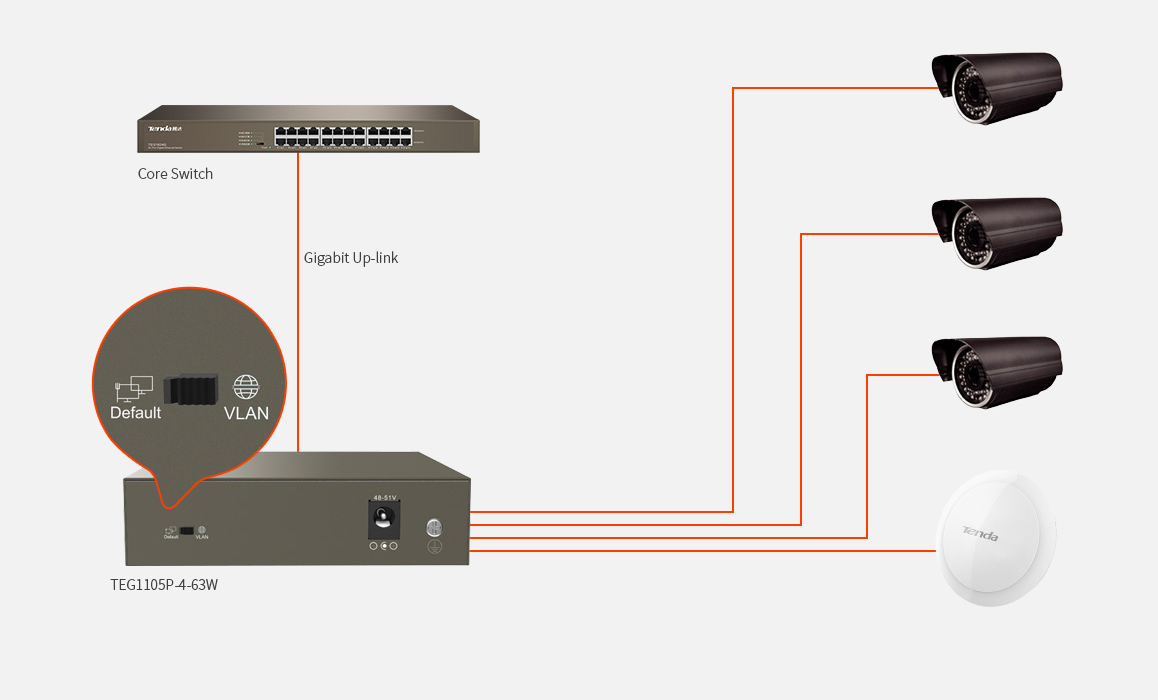 6KV lighting protection PoE switch is the real monitoring private switch
In real project, APs or cameras are usually installed in outdoor or a higher position, which also increases the camera and PoE switches the probability of lightning shock. The result is the individual equipment damaged, or lead to the whole local area network (LAN) paralysis. Tenda TEF11 series switches have professional lightning protection design - up to 6KV port and power supply thunder prevents, with two levels of protection design respectively, effectively restrain the power of lightning from cable, which is equivalent to give the entire network monitoring system with a security fence, The test standard is much higher than the national CE request. In thunderstorms weather, it can also provide monitoring network stable and reliable services and protect the images transmission normally.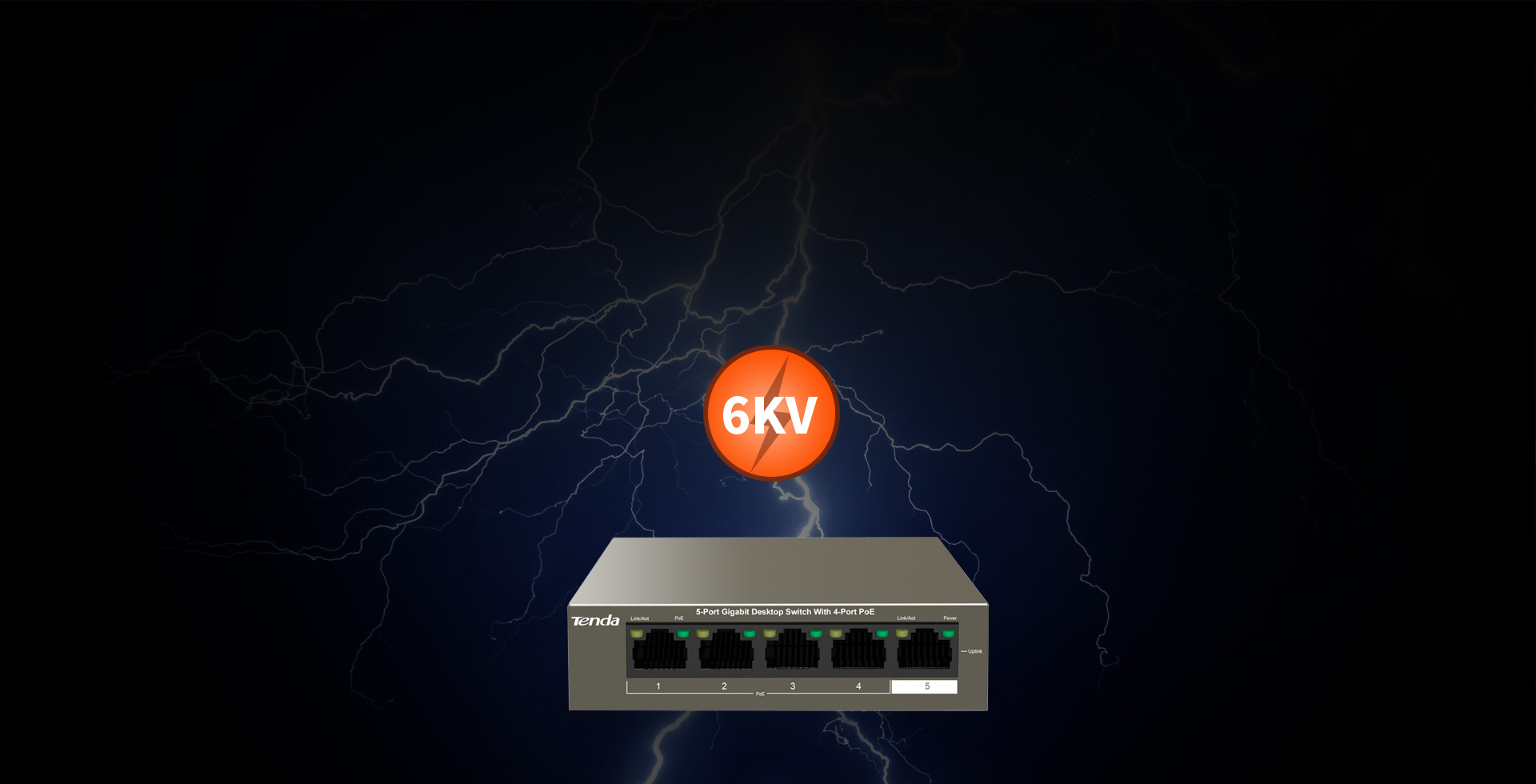 58W PoE power supply
Ports 1-4 comply with the IEEE802.3af and IEEE802.3at power supply standards. The entire switch offers a maximum PoE power output of 58W, whereas each port offers a maximum PoE power output of 30 W. The ports can be used to supply power to and exchange data with APs and IP cameras.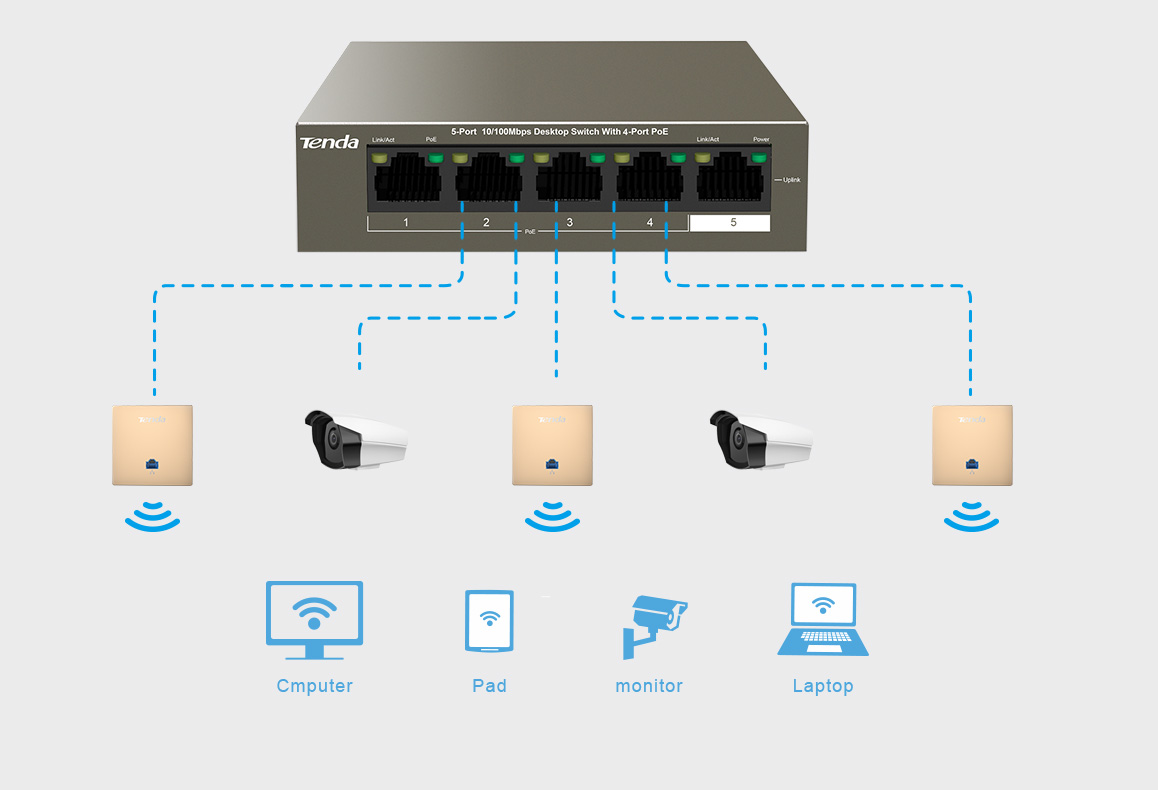 ---
We Also Recommend